Places of Intimacy: Immerged in the bathtub in Montemor-o-Novo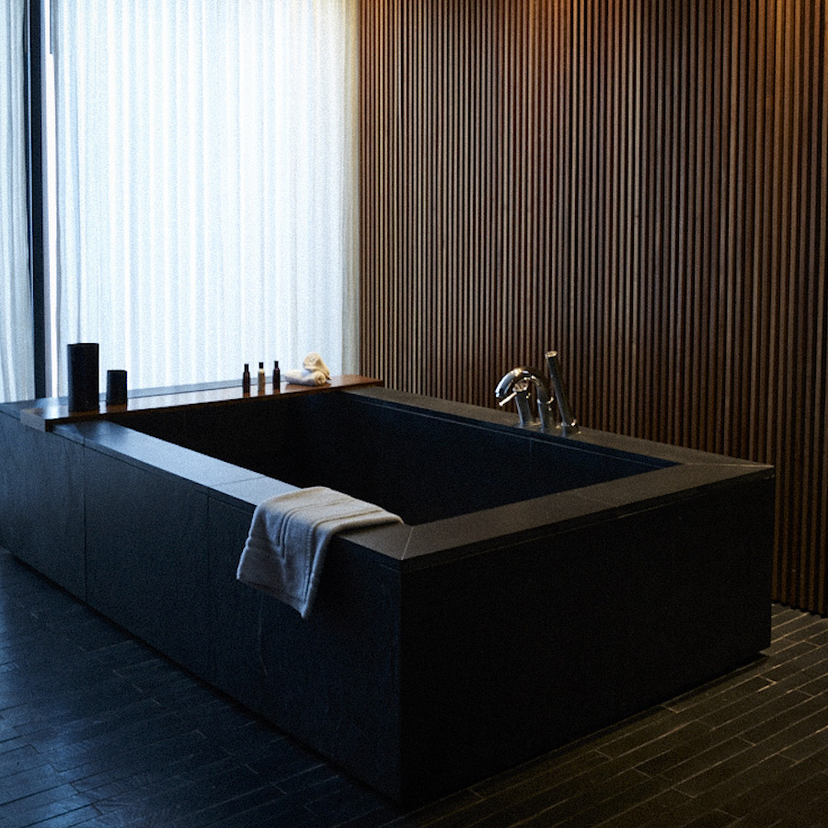 Places of Intimacy is SKYN's own guide to the best places to get intimate. To bring this guide to life, we sent actual couples around the world to get inspired and tell us about the colors, textures, scents, sounds, and sensations that defined their most intimate experiences during the trip.
"'Catch me if you can!', I yelled at him. We set out on the trail between the white buildings of L'AND Vineyard in Portugal's Alentejo. I stopped in the middle of a field of grapes – I wanted to let him catch me, here in the vines. We stood, lost in kisses, and when we returned to the room we were covered from head to toe with dust. 
We washed each other, then I led him across the stone floor to our wide bed. It was close to the end of the day, and the colours of sunset poured through a great sky window above our heads. Soft pillows surrounded us as I lay in his arms; together we watched the sky turn pink, then the first of the stars shine through.
The night was cool, and it was hard to leave our room where there was a large fire now burning on our terrace. But, we decided to take a dip in our private bath. Framed by the white, minimalist shapes of the hotel buildings, the water of the bathtub was gorgeously warm. Illuminated by only one lamp, it felt intimate, our own space. We floated in the silence, and then returned to the bliss of our bed with its magical night sky vista."
Learn more about Places of Intimacy and enter for the chance to WIN an overseas holiday for two – we're giving one away every month until July. 
Each month, two runners-up will WIN a copy of the SKYN Places of Intimacy guide to explore all the stories from our intimate travellers.
You should be also

reading…
You might
also like
Discover our complete range of premium SKYN products from Condoms to Lubes to Toys for pleasure not only with your partner but also for solo sensual experience
Discover Our Range