The Normalization Of Blow Jobs & The Censorship Of Female Pleasure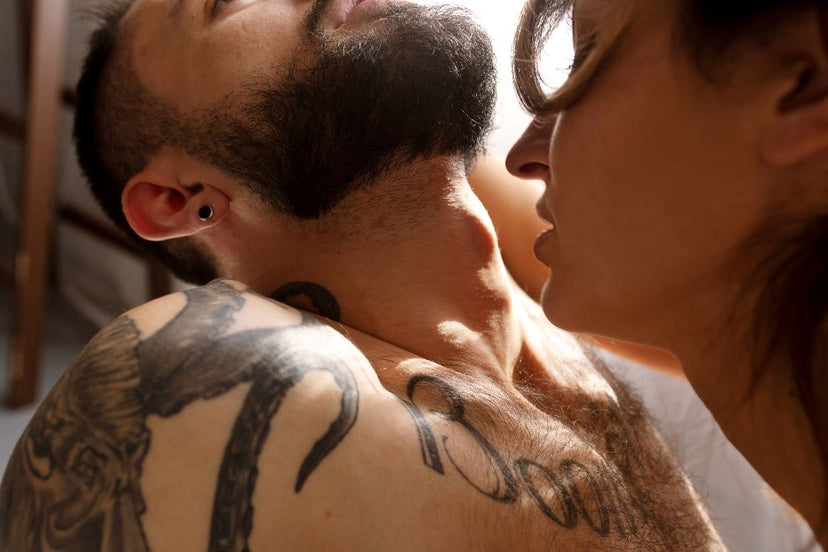 Cunnilingus is censored more than blow jobs and rape scenes.
Let's let that sink in.
——————————————
But what is it about female pleasure that's so threatening? Female sexuality seems to be the cause for much confusion…as well as a certain type of hand-wringing, censor-inducing, violence-inciting anxiety. Hollywood seems to be filled with censorship committees that seemingly love violence, but cannot bear any expression of female sexual enjoyment.
This is an especially interesting topic…because despite a dominant cultural perception that straight guys don't like going down on their partners, the numbers actually suggest otherwise. Young straight men self-reportedly love both giving and receiving oral—so what gives?
How did blow jobs go mainstream, while female pleasure is cause for censorship?
Much of this begins with the female pleasure taboo. There are endless cultural reasons that contribute to the orgasm gap (and disparity in on-screen oral sex), but they all seem to stem from our denial of female pleasure.
To start, sex education doesn't usually focus on pleasure. Growing up, our definition of 'sex', begins with a male getting an erection and ends with ejaculation. Our society judges women for enjoying sex, having casual sex and having multiple sexual partners. Even buying condoms is still less-accepted for women.
Our language tells a similar story. There are endless slang terms for 'fellatio', but when it comes to cunnilingus—just a few. We use the words 'sex' and 'intercourse' interchangeably and clitoral stimulation is considered as 'foreplay' and not part of the main event. We have countless nicknames for 'penis' and few (if any) for the clitoris. All of this results in misinformation, and the normalization of certain acts over others (blow jobs).
So what will it take to normalize oral sex (on screen at least)? The rap world provides an interesting case study on relationships. Just a few years ago, there was a lot of, Don't eat the pussy and play these hoes and now Lil Wayne promises to, turn that thing into a rainforest, rain on my head, call it brainstorming. Essentially, there's a shift that's happened, seemingly overnight. Rappers now have permission to sing about their love for pussy-licking; to highlight the reciprocal sex they were having all along. We can only hope that Hollywood will soon follow
In a recent study surveying college-aged heterosexual men, 74% said (they enjoyed performing oral sex) 'very much' and 14% answered 'somewhat. We're still not free of sexual stigmas, (not even close), but we're moving in the right direction. Closing the orgasm gap comes down to education, clitoral knowledge, and the willingness to apply that knowledge. We must hold clitoral
stimulation and penetration as equal; female and male pleasure as equal; and fellatio and cunnilingus as equal.
Both women and men must understand this and really work to apply this knowledge. Only then, will we be able to save intimacy
You should be also

reading…
You might
also like
Discover our complete range of premium SKYN products from Condoms to Lubes to Toys for pleasure not only with your partner but also for solo sensual experience
Discover Our Range